So then, 2018 was a long year, eh? As Jim Sterling pointed out in his shittiest games list Metal Gear Survive came out this year, and to me that seems like a good decade or so ago. Seemingly to balance out being longer and more peppered with infuriating bullshit than a Lars Von Trier film, 2018 also had a lot of good games. In keeping with the layout I've had going since 2016, the list will be two honourable mentions, and then a list of my five games of the year in reverse order. So, let's get into it.
Honourable mentions:
Note that as a one-off, because both of my honourable mentions were incredibly strong and equally deserving of a place on the main list, I've decided to give them both pictorial representation.
1: God of War
After six games (seven if you count the mobile one) about an unsympathetic, shouty dickhead whose killing sprees were less and less justified this instalment completely shifted gears. Kratos is now a sombre, calmer figure on a journey to honour his dead wife and bond with their Son, a relationship that may appear dysfunctional but beneath the surface is clearly one of love and respect. The switch to Norse Mythology brought with it gorgeous environments and interesting new lore, the over-the-shoulder camera made combat more intense and the whole thing felt like a proper journey, made even stronger by that central relationship between Kratos and Atreus; acted beautifully by Christoper Judge and Sunny Suljic. It's a touching, dramatic story about accepting your faults and trying to change, of parenting, relationships and what you pass on, or keep from, your children. All happening alongside excellent Metroidvania exploration, meaty combat and the aforementioned great performances. Somehow, much like Resident Evil last year, a series with nowhere to go found a way forward and powered through like a steamroller.
2: Marvel's Spider-Man
If you're surprised this isn't on the main list, rest assured I hear you, but it was a really strong year, and as excellent as Spider-Man was there were five games I liked more. Excellent it was, however. It's easily the best Spidey story I've ever seen, the new takes on established characters were good, particularly Journalist Mary Jane and her surprisingly good forced stealth sections, as well as the personal link between Peter and Otto Octavius. Its gameplay was to the webhead as Arkham was to Batman, making you really feel like the character, easy to do cool things but also rewarding skill. Also the webswinging was ace, which is a big deal as these things go.
Game of the Year List:
5: Yakuza 6: The Song of Life
It was a bumper year for Yakuza team, as it has been for some time now. Fist of the North Star was good, Kiwami 2 was flawed but still solid, but Song of Life was a thoroughly excellent entry and the clear best of the three. Kiryu's final act was, smartly, just another adventure in his storied, punchy life. No MGS4-style "The gang's all here" wrap up, just a man on a mission in uncharted territory, strengthening existing bonds and forging new ones. Smooth, streamlined combat, a touching story about the nature of family and the lengths one will go to for their loved ones and, of course, an end to Kiryu's run as Yakuza protagonist. This was the entry that finally drew me into going for substories and trying out all the minigames, and despite somehow feeling restrictive in Kiwami 2 the combat system's debut here worked really well. It was extremely close between this and God of War in fifth place, but Japan's toughest Hot Dad bowing out is too important to both me and video games to deny a place on the list. Sorry Kratos, but my heart belongs to Kiryu-San.
4: Dragonball FighterZ

I went back and forth between two fighting games in 2018: Street Fighter V AE and Dragonball FighterZ. The latter is a combination of great fan service like the JoJo games but with far better gameplay, reminiscent of Skullgirls and, fittingly, Persona 4 arena. It's easy to pick up and play as fighting games should be, exciting, fun AND enables a Goku Black/Bardock best boy tag team. Its quick matches, full-on sense of spectacle and making it easy to pull off massive attacks straight from the anime/manga, all wrapped up in a gorgeous visual style make it an absolute gem in terms of fighting games, Dragonball games and anime games. Now I just need Arc Sys to make 2-D JoJo fighting game.
3: Detroit Become Human

I know, I know, I'm as surprised as you are. I'm a vocal critic of both the man and his works, and Cage's influence here is definitely an issue when the clunky racism allegory rears its head, but for the most part it's an engrossing, well-acted story about likeable characters, and choice-based player interaction with that story that can have genuinely catastrophic effects. Stylish, slick and genuinely engaging, with a great visual style. It's just bloody good, and I have no regrets about putting it on this list. Credit where it's due; I really like Detroit, despite its flaws, and it really was one of the best games I played all year. I doubt David Cage had anything to do with it though: I reckon 2018 was where the rest of Quantic Dream and the cast made something so good even Cage's awful bullshit couldn't derail it. Side note: between this, Yakuza, Spider-Man and God of War it was a great year for Playstation exclusives.
2: Far Cry 5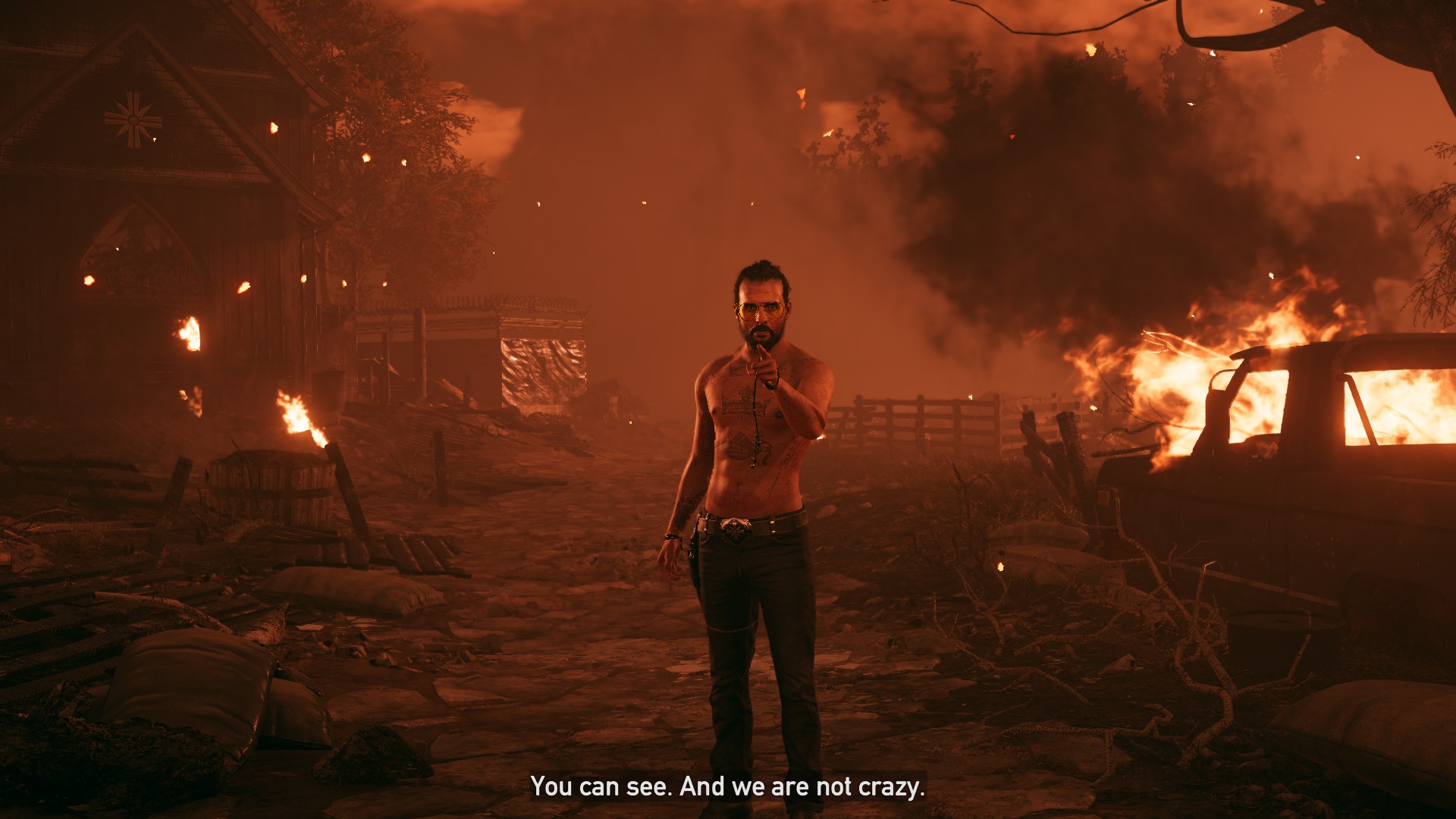 To borrow a phrase from the DMC5 entry of my E3 2018 list: A silver medal so strong it could blot out the Sun and so, so close to the gold. I love Far Cry 5: its world, its characters, especially the Seed family and double-especially Joseph Seed, the music, the story and what I maintain is the best ending to a game ever. It's a game that, through its memorable interactions, amazing original soundtrack and the series' great driving mechanics married to beautiful North American scenery has been firmly stuck in my brain since finishing it. Unfortunately, it's Resi 7 all over again: had a certain other game not been released, Far Cry 5 would be my game of the year hands down. But of course, that game was released, and it was…
1: Red Dead Redemption 2

…the best game ever made, taking the role previously held by its predecessor. Of course Red Dead 2 is my game of the year, it couldn't not be. It's an absolute masterpiece, the kind of game that comes around once in a blue moon, draws in massive swathes of the earth's population and stays in its collective minds for years to come. So a Rockstar game then, but even among Rockstar games it's miles ahead of even its second best game (The Warriors, if you're wondering). Arthur Morgan and his story of the world being a cruel, unforgiving place in which the people you love will reveal their true colours as crushing disappointments and your life will slowly fall apart before your eyes like rotten meat off a corpse is a captivating emotional gut punch. I've done a second playthrough where I took my time to do stranger missions, go out robbing and spend time milling around camp and it really is just fantastic. Oddly enough my time with Persona and Danganronpa made me appreciate socialising with Red Dead's cast all the more, and the way it develops them and gives them all personality and texture augments everything else about the game; its a journey you take with all of them, not just Arthur. I'll stop there before I ramble on for another thousand words or so, but I cannot stress just how good Red Dead 2 is. It's the best game ever made and my game of the year 2018. That's the way it is.
Finally, a quick shout out to Ryuji Goda, the best Yakuza villain, and how gorgeous he looks in Kiwami 2:
Yowza. The Jingweon did him dirty and stole all his screen time, the bastards.
Anyway, that was 2018: a great year for video games and the most trouble I've had picking my list for a while. Really looking forward to at least the start of 2019: Resi 2 Remake and DMC5 hopefully acting as a launch pad for another year of good games. The former will be my first new review of the year, so I'll see you then.
By James Lambert
@jameslambert18