So 2020 was shit, we all know that and I won't spend time dwelling on it. Some really good games though, so let's talk about those instead. Same layout I've been using for the last few years: two honourable mentions, then the five games themselves.

Honourable Mention 1: John Wick Hex
A grid-based John Wick strategy game based around the amount of time actions like moving, crouching, aiming and shooting take is a terrific idea. In execution it was fun, engaging and made me feel like the man himself. Unfortunately, its strong story concept of a man powerful enough to make a move against the high table is squandered when John just throws him over a balcony at the end to no fanfare, after a boss fight I won by repeatedly smacking him in the face and then shooting him when he waddled off to try and regain his stamina. A good idea for a John Wick game well realised, but it doesn't quite stick the landing.

Honourable Mention 2: Carrion
Carrion is a really cool idea for a game: a secret laboratory underground with a monster breaking free from confinement and tearing around the place, and you're the monster. Its design is great; a huge, gooey, red mass of flesh covered in mouths and tentacles, eerily skittering around the place. Unfortunately as cool as the monster is and as fun as it is to snatch up screaming scientists and rip them apart with eldritch teeth, it has problems. The visuals suit the tone, but the murky art style can make finding interactable objects difficult at times. The metroidvania elements can be hard to navigate for this reason, as well as the lack of map. The checkpoints are crap and as the monster gets bigger it becomes unwieldy, especially when you're trying to squeeze through tight gaps. All that aside, it's a good idea, I did have fun with it and its originality and creativity are to be applauded.

Now, my five games of the year, in reverse order:

5. Streets of Rage 4
Streets of Rage 4 was a game I picked up on a whim because I'm partial to sidescrolling beat 'em ups. When I reviewed it I'd finished it once and that was it. Since then I've put so much time into it I unlocked the cast from each of the first three games. This inspired me to go back and check out the first three games, which gave me a further appreciation of Streets of Rage 4 and how good it is: it's a big ouroboros of sidescrolling, punk-clobbering goodness. Gorgeous art, great soundtrack and satisfying, weighty combat; it's one of those games that keeps it simple but goes all in on the premise and does everything really well.
4. Nioh 2
The first Nioh was good, the second Nioh is amazing. It takes everything that made the original so good; its character-action-meets-Dark-Souls combat, its enemy and boss design taken from Japanese mythology and folklore and large but well structured and designed levels ripe for exploring, and adds a create-a-character and Yokai abilities. In terms of the mini-genre of games that emulate Dark Souls and Bloodborne, not including Sekiro because of the singular focus present in its combat, Nioh 2 is my favourite. It's the one I had the most fun with from start to finish, and the new benchmark for games like this. Also, one of the final bosses is a Yokai that's possessed a building, as pictured above. It's so cool.

3. DOOM Eternal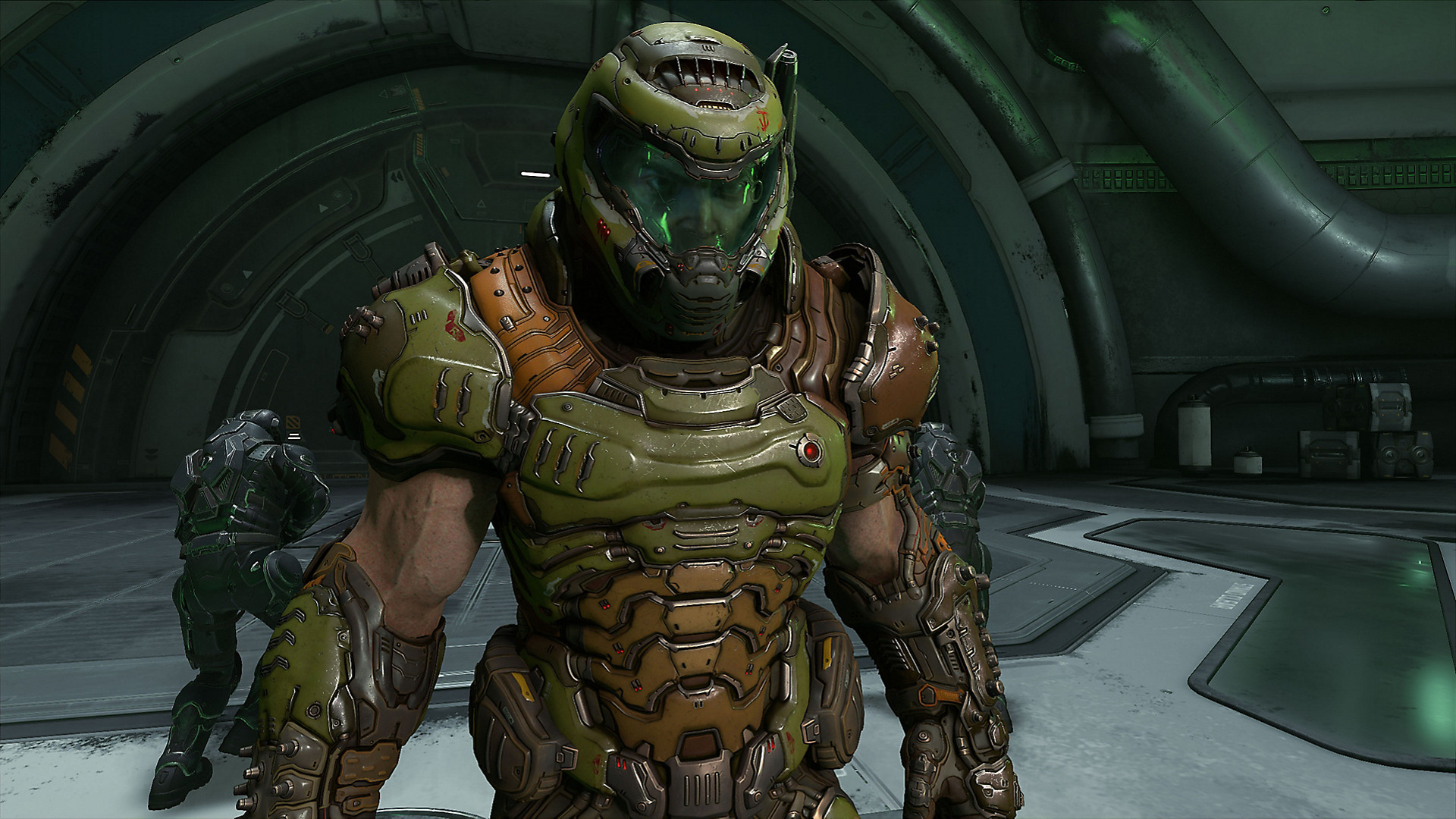 I had a bad start with Doom Eternal, because sometimes I'm foolish. Fortunately I came around and fully grasped what I had in my hands; one of the best first person shooters I've ever played. The way the game gives you different tiers of enemies to fight and rewards learning the best ways to deal with them is superb. Getting into the game's groove; darting around arenas dealing with each threat as you come across it, switching weapons on the fly and using the new blood punch and Predator-style shoulder canon is a wonderful, structured chaos that is an absolute joy to experience. This is how first person shooters should play: layers of mechanics all fitting together to make the core gameplay even better. It has a surprisingly good story, too: having established the Doom Slayer entirely through his actions in first person in the previous game; his contempt for the UAC, his rage at the Demons and the odd tender moment, Eternal builds on that with shots like the one pictured above: his steely eyes, silently taking everything in, burning a hole in all they fall on. Not that it skimps on the first person stuff though; there's plenty of that, and the Doom Slayer can do more with a stare and a few hand movements than some characters can do with an entire monologue. Doom Eternal is an absolute masterpiece of high-octane violence, married to subtly powerful characterisation. What more is there to say about it? It's fantastic.


2. Yakuza: Like a Dragon
You know, I seriously considered giving this first place. It absolutely deserves it, but unfortunately I have to be honest with myself, and there is one game I enjoyed more. But let's not get ahead of ourselves. Like a Dragon is the best Yakuza game I've played, and I've played most of them. Its new turn based combat feels like a natural change that works really well. Its story is interesting and well told, with interesting characters and hefty emotional gut punches, its minigames are fun and it's all tied together by absolute sweetheart Ichiban Kasuga; a wonderful new protagonist. As the final chapter in the saga of the Tojo Clan and the beginning of a new one starring best boy sweetheart Dragon of Rock Bottom Ichiban, it's excellent. In a series filled with fantastic games with great characters, stories and gameplay, this is the best, and I hope it's indicative future instalments. Were it not for a certain other game, it would easily be number one.


1. Persona 5 Royal
It was inevitable really. Persona 5 absolutely destroyed the rest of 2017's list, and P5R is that game but a load of new content that makes it better. Everything it adds improves upon a game that was already a masterpiece: quality of life improvements in combat and exploration, new character portraits and altered dialogue, new minigames, the ability to hang out with Caroline, Justine and Lavenza, the new characters and the new palace that ties directly into them. The new antagonist, who does the whole "You can see the villain's point" thing but with purely benevolent motives and actions I could imagine people thinking are justified by the outcome; it's a philosophical debate based on free will. No one is killed or even hurt, it's just a personal decision based on what that person wants in life. It feels almost anticlimactic really, for this to be number 1, but as I said: I have to be honest with myself, and my honest opinion is that Persona 5 Royal is the best game I played in 2020, it's a masterpiece and probably my favourite game, definitely joint best with Silent Hill 2. I do feel bad for Ichiban though, so here's a picture of him:
What a man. So that was 2020: good year for games, bad year for other things. My first 2021 review will be HITMAN 3 in a few weeks, so I'll see you then.

By James Lambert
@jameslambert18