Blimey, those nine years passed by rather quickly. In Part Zero I outlined the events of MGSV: Ground Zeroes, in which Big Boss rescued Chico and Paz from Not-Guantanamo Bay only for Mother Base to be destroyed, most of his troops killed and for Paz to blow up right near said helicopter. Things didn't go too well. Anyway, it's now 1984, and after nine years of laying idle in a hospital bed in Cyprus, Venom finally awakens- the only survivor of the crash besides his second in command Kazuhira Miller. As I set up in Part Zero this part will be based around what I think of Chapter One of The Phantom Pain; its characters and main plot points.
Awakening: V has come to, Midge Ure and a Nine Year Coma
So the game opens proper with Snake gradually waking up from a coma in a hospital as Midge Ure's cover of "The Man Who Sold the World" plays. Now, some people really don't like the whole opening sequence and while I do agree some of it is a bit long-winded, there are parts of it I think are really strong. The opening ten minutes or so do a wonderful job of setting the tone/carrying on the tone set by GZ (delete as applicable), as in separate incidents days apart Big Boss is told by a kindly doctor that he A) Has been in a coma for nine years, B) Had one hundred and eight pieces of shrapnel, bone and teeth stuck in him, some of which is still there near his heart and stuck in his skull and C) His left arm is gone below the elbow. He wordlessly freaks out each time (in first person no less) and has to be drugged to calm down. With only a few lines of dialogue each time the game makes you fully understand Snake's position, in contrast to how say, MGS2 would do it. Anyway the key points of the opening are that a man with a bandaged face calling himself "Ishmael" (also voiced by Keifer Sutherland) saves Snake from a woman who will be very important later, then guides Snake through an escape as the hospital is attacked by soldiers who are that this point unknown, a flaming zombie and a floating child in a gas mask (they'll all have their own sections). This part of the game works fine as a tutorial but the actual story is somewhat sparse apart from the very start. It ends with Ishmael crashing an ambulance and mysteriously vanishing as Snake's old friend/rival Revolver Ocelot arrives on a horse to rescue Snake. They've got to go to Afghanistan to rescue Kazuhira Miller, last seen in the helicopter at the end of GZ.
Diamond Dogs: Ocelot, Kaz and the new Mother Base
Ocelot gives Snake a snazzy bionic arm and sends him into Kabul to rescue Kaz from the Soviets, who are currently knee-deep into their real life occupation of Afghanistan. First of all, the Soviet occupation of Afghanistan is a great backdrop for a game, especially one like this, and the bold, mountainous terrain makes for an interesting setting. Anyway to focus on the matter at hand, you rescue Kaz and some twat's lopped off his right arm and left foot. On the way out they're ambushed by incredibly fast, shaky soldiers who can pull long firearms out of thin air, but you manage to escape (again, they'll be discussed later). To Mother Base then, now found in the Seychelles. Kaz set up a new private army in your absence: "Diamond Dogs". Kaz and Ocelot form the two sides of Snake's conscience- the red and blue oni, the figurative Angel and Devil on his shoulder (to an extent). Throughout the game Kaz is entirely fueled by two things; his love for Diamond Dogs, and an all-consuming lust for revenge against Cipher for apparently destroying the original Mother Base. He still loves and respects Big Boss but is more than willing to lambaste him for not immediately murdering people even tangentially related to Cipher. He has some levity, but he's clearly a different man after everything that's happened to him. Though he has a prosthetic foot he refuses to have a prosthetic arm, so he can remember the pain MSF suffered. Ocelot, in comparison, is cool, calm and collected. He's responsible for training recruits, and always acts as a voice of reason, calming Miller down and willing to take risks if they'll benefit Mother Base. I really like this dynamic because it adds character to Venom Snake, who doesn't say much and instead relies on his actions. The gameplay focuses on dynamic choices being made constantly as you play the game, and this factors into that; do you listen to bloodthirsty Miller? Or Sly, cunning Ocelot? Ocelot also has a hint of his more malicious, MGS1 side that shines through during his torture signs. He may be calm and collected, but he's a ruthless bastard when he needs information. As for Mother Base, it's easily one of the most important factors of the story, even if it appears to take a back seat. I've seen people complain that the game doesn't have much story, but the story is constantly unfolding: by going out and doing mercenary work, kidnapping recruits, killing fools and stealing resources you're constantly building up Mother Base and spreading your representation throughout Afghanistan and Central Africa.
Wicked Butterfly: Quiet


Right. First off, let me say that I completely understand why some people really don't like Quiet, and think she's an awful character. But I really don't. I love Quiet. Personally I think the explanation that she breathes through her skin and therefore has to expose most of her skin a bit daft, but acceptable. The Anime Kill la Kill had something similar and I love that too, my problem here is the meta reason for her to be dressed like that. See, series creator Hideo Kojima has stated that he personally finds her design sexually attractive, and that he wants people to cosplay as her. I'm fine with her outfit when the game isn't sexualising her- she can't help but be dressed that way, and it's creepy when the game ogles her so much. For the most part, anyway; her posing in the helicopter is fine because it's linked to you gradually building a bond with her and her and Venom Snake falling in love. Same for the now infamous scene of her playing around in the rain. As for her as a character: she starts off as an XOF assassin (more on them later) who kills Snake's doctor during the prologue, and gets set on fire twice by Ishmael, the resulting burns cured by the same thing that gave her her powers (teleportation, super speed and inhuman sniping skills) and skin-breathing. She's treated like an inhuman monster (Miller refers to her as "That thing" at one point, and is really horrible in his refusal to accept her, but Snake treats her like a human being, and over time she becomes an important ally. Also its nice to take her on missions and have her on the chopper- she's a soothing presence. Plus she's really, really good at killing people, and Stefanie Joosten does a good job of acting without saying a word.
The White Mamba: Eli and the Child Soldiers


Eli was a bit of a disappointment for me, though I'm not sure what I was expecting from him. He's introduced as some kind of badass child soldier who arrives literally out of nowhere to take over a unit of other child soldiers after all the adults abandon them, and his opening mission is really solid. You make your way through an African village full of armed children (more on them shortly), make your way up to the top of a wrecked boat that's run aground and have a fight with Eli that can be won entirely by just battering him with CQC. He's taken back to Mother Base where he makes a nuisance of himself, but doesn't do anything of real note until season 1's ending, which I'll talk about in the last section. I'll talk more about Eli in part 2 (where he becomes more important), but for now know that I found him really annoying (partly because I hate children) apart from that first fight. As for the child soldiers, they're disturbingly realistic. The first time I encountered them I felt genuinely uneasy about the concept, and if you fight them you discover that they're realistically crap with their weapons. You can't kill them either, but you can knock them out/tranquilise them. There's a section that appeared in the trailer to be Snake killing a load of them, but it turns out he's faking their deaths so he can take them back to Mother Base where Kaz insists they be given an education. That's it really, they're not in it much.
Old Diné: Code Talker, Vocal Cord Parasites and The Devil's House


Midway through Chapter One the child soldiers you rescued give you a mission: go track down their friend, who is apparently being held at a place called "The Devil's House", a guarded factory hidden away in a misty valley with a radio nearby that's playing the radio broadcast from "P.T". The friend in question dies, but Snake does discover what ends up being Skull Face's ultimate weapon, though he doesn't know it at the time. He finds people with blisters and sores all over their chests, with headphones inserted into their throats. The Devil's House is one of the more overt examples of horror in MGSV. Patients strapped down to beds with horribly engorged lungs, blood all over the place and hints of a bizarre experiment that you can't quite put your finger on; it works really well. It's also not overdone- it's the only time the horror elements are so out in the open. Turns out the one man who can help you out is a hundred year old Navajo Biologist named "Code Talker", whose help you seek when soldiers at Mother Base begin showing the same symptoms as those in The Devil's House. I like Code Talker a lot. It's nice to see a Native American character in fiction that doesn't have some kind of stupid magical powers, and instead is an interesting character with a background in science, brought into an already diverse and interesting cast of characters. It's revealed that what causes the symptoms are a strain of parasites that react to the host speaking a certain language and consume their lungs, hence the headphones in throats. Skull Face forced Code Talker to develop different parasites that target different languages in order to wipe out different ethnic groups. Or so you think, for now at least. The true nature of his plan and his reasons are yet to come. For now though, I find the parasites to be an interesting idea. As I'll explain when I talk about Skull Face they fit his character and backstory well, and they're a lot different to the usual plans villains have in games.
The Ultimate Deterrence: Metal Gear Sahelanthropus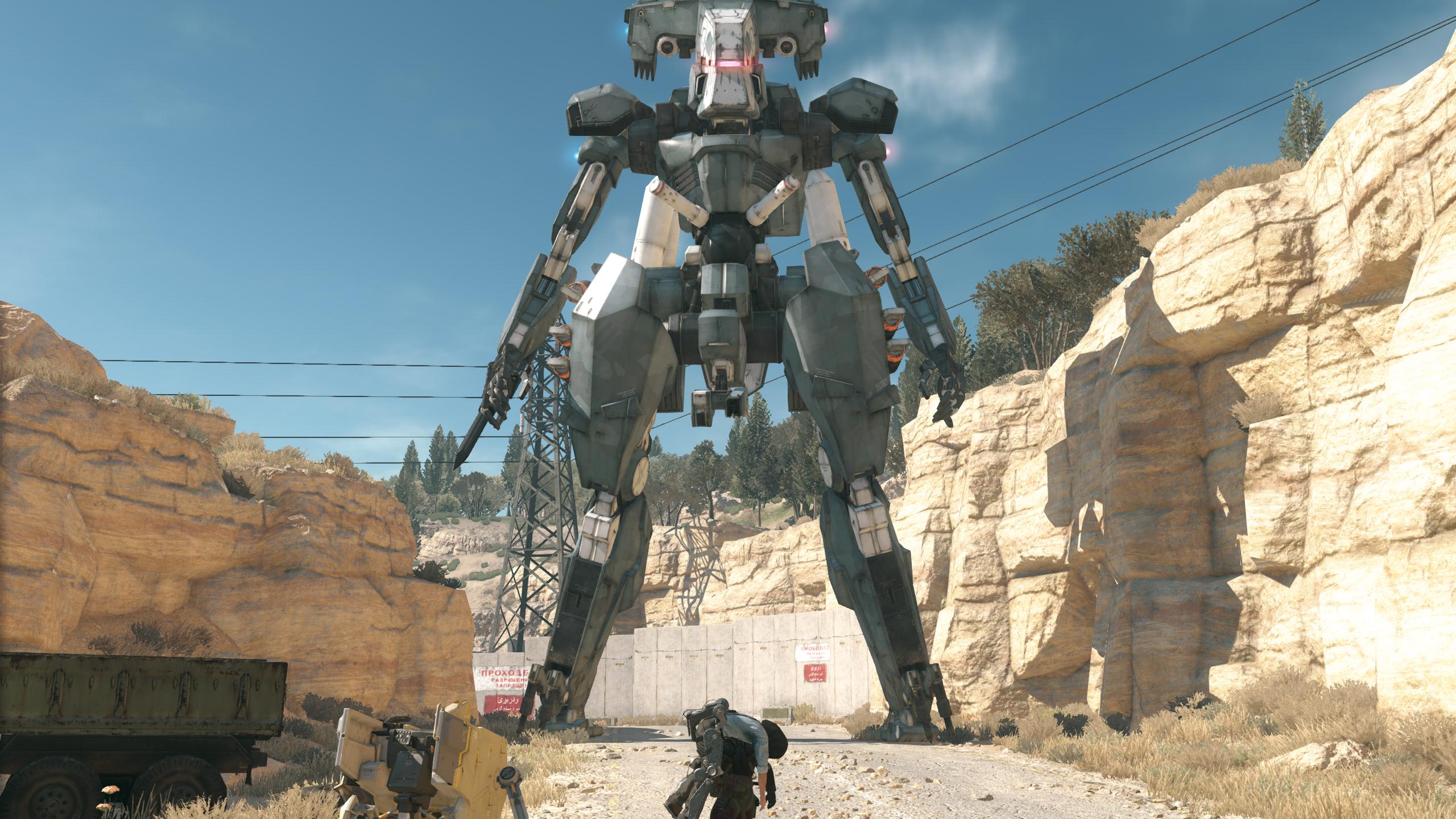 Quite a short one, this. The new Metal Gear ("METAL GEAR?!") is named for one of humankind's ancestor's that apparently walked upright. So, Sahelanthropus can walk hunched over like MGS1's Metal Gear Rex (it also looks quite similar and even roars) or stand up straight like in the picture above. Skull Face had MSF's head scientist Huey Emmerich (he'll have his own section in Part 2) build it as part of his plan for a sort of peace through nuclear deterrence, out of a sheer terror much like the one Metal Gear Rex was said to potentially cause in people. He sicks it on you twice; first time you have to hide from it, second time you have an all-out fight out in the open. Its place in the story is something of a footnote really; it's not Skull Face's main weapon, it's destroyed at the end of Chapter 1 and Metal Gear Rex is still the coolest. Still, it's a nice design, and the part where Snake desperately tries to escape from it, then has to fight it is enjoyably tense.
Sans Lingua Franca: Skull Face, his plan, XOF and The Skulls


Here we are then. The big bad, for now at least. Skull Face is both a short-term and long-term villain, a man entirely instrumental to Big Boss' heel-turn even though he's hardly in the game. Born in Hungary and horribly burned in an attack on a weapons factory as a child, he was moved from captor to captor, constantly forced to speak new languages and effectively abandon his heritage. He was recruited by Cipher head Major Zero (Snake's CO in MGS3) as his XO (executive officer), and as FOX was born, so was XOF. While Big Boss (then Naked Snake) went off on covert operations for FOX, XOF were their incredibly secretive clean-up crew, "The other side of [their] coin", in Skull Face's own words. By the time the game is set XOF are his own personal strike force- heavily armed, highly trained soldiers that carry out his every whim. They're also the soldiers who raided the hospital in the prologue. Fed up with being in Snake's shadow he decided that Zero's plan to support America with Cipher chided him very much the wrong way, and so developed the vocal chord parasites to wipe English from the face of the Earth. See he isn't trying to wipe out certain ethnic groups. He wants to wipe out the World's dominant Lingua Franca, then supply nuclear weapons that he controls so no one will be able to communicate and everyone will be scared of everyone else's nukes. I find it interesting that Skull Face's plan is like something a really twisted Bond Villain would come up with in some eighteen rated film left on the cutting room floor, because MGS3 is one big homage to James Bond. Whereas Big Boss abandoned his country to basically become Colonel Kurtz (more on that in Part Two), Skull Face is very much a theatrical villain- his face, his Cowboy outfit, regularly hamming up his dialogue, it'd be funny if he wasn't so utterly horrible. What I mean about the long-term and short-term villainy is that even though he doesn't appear in the game for very long, pursuing him is what causes Big Boss and Kaz to become demons- they kill and kidnap for money, kidnap soldiers for their own army, steal resources and cut a bloody swathe through Afghanistan and Central Africa all to get their hands on this man with no care for the consequences. I love Skull Face as a villain, and I love how he works as just a really despicable cog in a larger machine. My only problem is with how he dies, at the end of Chapter one. See that little boy with the gas mask I mentioned right at the start (he'll have his own section is Part Two) works for whomever feels the most hate, hence why he sticks around with Skull Face. But then he gets swayed over to Eli's side due to the hate Eli feels for Snake, takes control of Metal Gear and crushes Skull Face. After fighting Metal Gear Snake and Kaz brutally mutilate Skull Face and leave him for dead despite his pleading for them to kill him, and Huey puts him out of his misery. My problem with this is the idea of a child apparently being so angry with being beaten by Snake that he out-hates a MAN WITH NO FACE, WHO CAN'T SPEAK HIS OWN NATIVE LANGUAGE ANYMORE. A man who's made a career out of coming up with the most horrible tortures thinkable as part of a larger plan to wipe out an entire language. It just doesn't make sense to me, and it's the biggest problem I have with the story in Chapter One. What's important with Skull Face is his lasting ramifications, and what his presence does to Snake and Kaz over the course of Ground Zeroes and The Phantom Pain. He's also one of my favourite villains in the series, despite his small amount of screen time. It's also worth briefly mentioning "The Skulls", despite them not having much importance in the story. They are the incredibly fast, shaky soldiers I talked about back in the "Diamond Dogs" section, and they're the weakest special unit in a Metal Gear Solid game. Granted they have really strong competition in Foxhound and The Cobra Unit, but despite having neat powers there's no real pay off for them, and they have no real impact on the story other than when you have to fight them, unfortunately.
So Skull Face is dead, everything's peachy and Big Boss and friends can look to the future. Until it all goes horribly wrong, of course. Coming up in Part Two:
See you there.
By James Lambert
@jameslambert18