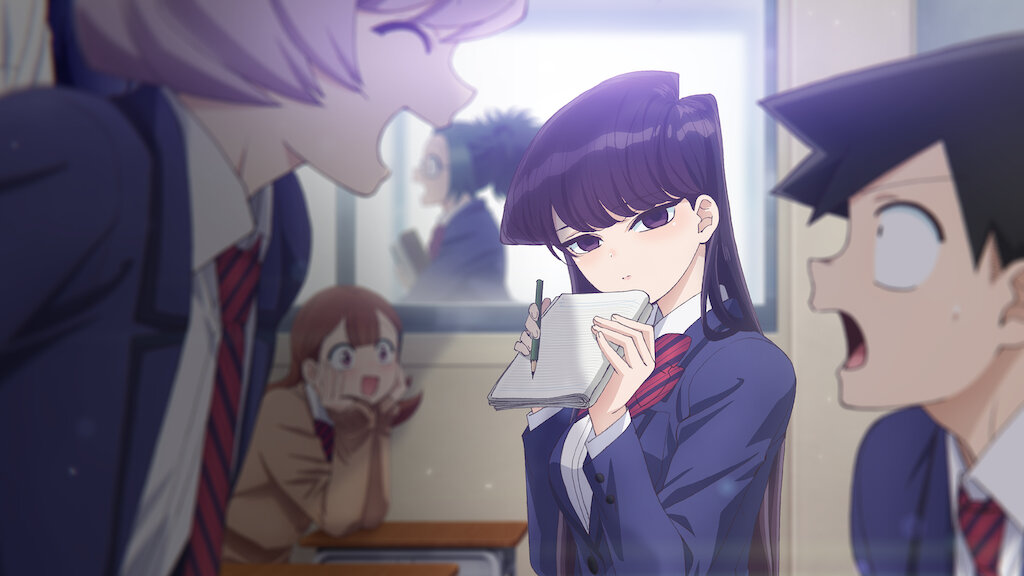 Komi Can't Communicate is a manga I picked up on a whim because I was intrigued by the premise; a girl, the titular Komi, has such severe social anxiety that she can't speak to people, which is misinterpreted by most people she meets as her being cool, aloof and some kind of goddess who's way to good for them. Four volumes down and I love it; they have fun with that premise but don't overuse it, instead focusing more on a core group of people who quickly become friends with Komi, hang out with her and set out to help her achieve her dream of having one hundred friends. It's funny, it's sweet, the characters are all strong, it's ace. Anyway, an anime adaptation just started, so let's get into it.

Episode 1: "It's just, I wish I could speak."
The first episode introduces the core relationship of the series; Komi and Tadano. Everyone else in class 1-1 treats Komi with an almost obsessive, slightly creepy reverence, and it's only the seemingly bland, middle-of-the-road Tadano who picks up on her mannerisms and deduces that she has trouble speaking to people. They strike up a conversation by writing on a blackboard, something the anime makes seem really powerful with the score and camera angles, and Komi reveals her dream: to make one hundred friends. Tadano responds that he'll be her first, and help her make the other ninety-nine. The narration reveals that it won't be as easy as he thinks, however, as the school they attend is filled with eccentrics because admission is based solely on personality.
This was a good opener; spending the whole episode focusing on that core relationship was a good idea, and while there are brief shots of the rest of the main friendship circle, this is very much Komi and Tadano's episode. The advantage anime has over manga is, naturally, the addition of movement and sound effects, something Komi Can't Communicate uses to great effect. Komi's anxiety face, where her eyes become giant and her other facial features disappear is even cuter here than it is in the manga, hearing her stuttering out a single syllable repeatedly when trying to speak gives a better idea of the trouble she has communicating, and they play up her stone-faced response to people being unintentionally intense and intimidating. It also has what I assume will be the OP going forward, but I'll speak about that next episode when I confirm that's what it is. So yeah; good start, great manga that I'm eager to get back to, looking forward to the next episode.

By James Lambert
@jameslambert18