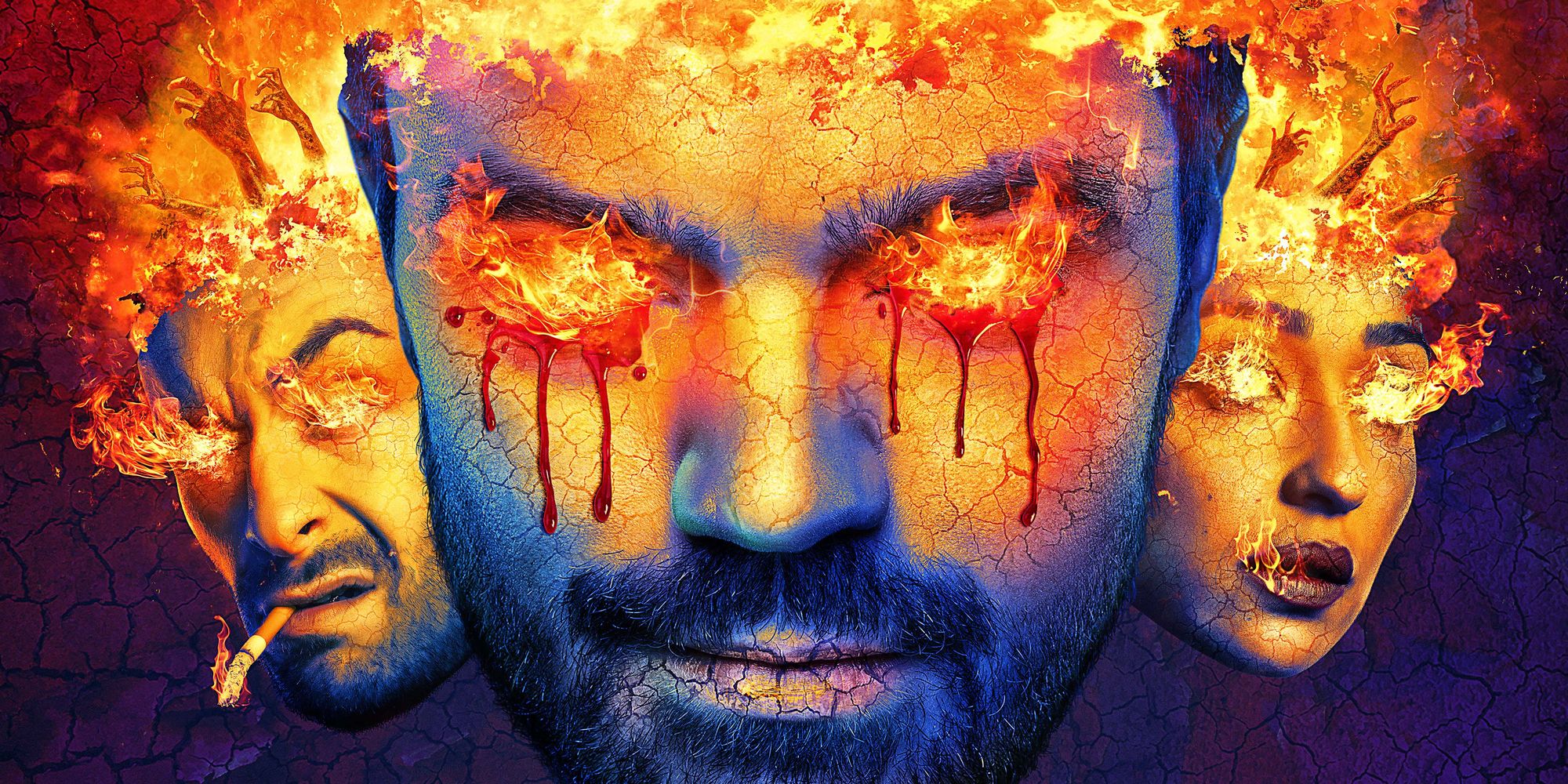 Preacher's back for one last ride, having taken a comic I loved growing up, swapped things around, made new things and spent three seasons making an adaptation that's better than the source material. After season 3 wrapped up everything with Angelville and Jesse's dark past, as well as Cass' newfound vampire mate, there's only one thing left to do: find God once and for all. Unfortunately, Herr Starr kidnapped Cassidy at the end of season 3, so there's that to deal with first.
Episode 1: Masada
The episode starts "A couple months" in the future, with a triple threat of comic references I can't elaborate on for spoilers: Tulip and Cassidy hiding out in a hotel and kissing, with Cass having dyed his hair, Jesse falling out of a plane and lying still in the sand, and a shot in the new opening credits where Jesse has an eyepatch. Hoo boy, I was hoping for more comic arc adaptations and we got 'em. Cassidy is being held in the titular Masada; a Grail command centre built into the side of a mountain in the Middle East, complete with a university that hosts multiple torture classes based on skill level. The advanced class has a guest lecturer in the form of Frankie, a man from the comics who repeatedly shoots Cass with a Lee-Enfield rifle. That's not enough for the TV version though, who dons a yarmulke and repeatedly circumcises Cass with a straight razor. Meanwhile Jesse and Tulip are putting together their plan, using the Word on a brawling group of Grail troops and having them infiltrate the base; most of them sneak Tulip in as a pretend prisoner, which goes wrong in gruesome fashion. See, The Word has an effect on one of the troops that forces her to inform her Sergeant that she can't follow his order because she works for Tulip now. Cue the heavy front doors shutting and the soldier taking Tulip's order to "Keep the door open" literally, resulting in her being a mashed up mass of pulp. Still alive though somehow, so that's something I guess. Meanwhile Starr has made precautions against Custer, equipping himself and his little squad with ear protection, and having an old mute woman act as a go-between for the two. Doesn't help with one of Tulip's new goons being in the room, however, and everyone gets gunned down besides Starr, who used the old woman as a human shield because of course he did. Did lose an ear though, so swings and roundabouts. Jesse breaks Cass out suprisingly easily, eliminating a troupe of Grail guards (after supplying them with edged weapons) and pummelling Frankie in a way that seems like it's being played for comedy but it comes off as a bit odd. Basically he's drawing said beating out and every now and then grins at Cass, who just rolls his eyes. The two fight their way through Masada mostly off screen while Tulip scales the cliff to reach the door release switch, guarded by Featherstone. After the two fire at each other and their bullets collide, they have a brief fight resulting in Tulip getting the door open and Featherstone escaping with a wingsuit. Cass taunts Jesse about his love for Tulip and the two have a brief fight, which is another reference to the comic but unfortunately is again off screen. I'm hoping they come back to this though and adapt it more closely, because it's a great moment in the comic. So that's that then, right? They've got Cass out and everything's grand. Except they don't, because he stays behind, merely saying he's "Got this", but presumably because he can't stand being with Tulip but not with her. God is working directly with Herr Starr to make Jesse suffer, and the episode ends with Jesse having a dream of a nuclear explosion and odd, penis-shaped rock. He leaves to go find God, a letter left behind.
Overall, decent start to the season. Some good, gory visual gags, the set up for Cass' part of the story as the season goes on is intriguing and I'm glad it ends with Jesse deciding to get moving. The fight scenes weren't as good as they have been in the past and that one joke I mentioned didn't land, but overall it was a good premiere.
Episode 2: Last Supper
These two episodes aired as a double bill, and there's a lot to get through in this one. First up is a scene explaining why the dinosaurs were wiped out: a Brontosaurus ate its own shite after God told it not to. Back in the present, Jesse hitches a ride with an ex-porn star driving a chicken truck but stops to help out a child crying by the side of the road, his dog having died. It's ruse though; the dog is fine and now Jesse's being mugged. He responds the obvious way and Words the kid to make him drop the gun…which kills the dog for real. Good work, preacher. To make up for it, he gives the kid some money, then his wallet, then his boots for some reason. It's all good though, he hitches a ride with a man riding a camel, which goes fine until he runs into someone he hates and it descends into a fight. Jesse puts a stop to it, but for some reason it only works on one of the men, resulting in a rapid chain reaction and both men and camels dying. The Word only works if you speak English, a brief plot point from the comics that I'm glad to see make an appearance. Meanwhile, Tulip and Cassidy are both independently working on escape plans. Tulip's involves a fake betrayal, a drawn out, off-screen, obscured by dust demolition derby and sneaking into Masada in disguise, which works, but the aforementioned car fight is lacklustre. Cass just steals a doctor's clobber, gets right up to the front door and is about to leave when he seemingly turns back because of the sun, only to do a load of cocaine, steals a load more of it and get into a fight that ends with Frankie putting him down. Frankie later makes an interesting point about people like Cass wanting to be tortured because they believe they deserve it, but I really hope this whole "Cass very easily nearly escapes but then doesn't" thing doesn't become a running theme. Herr Starr is the new Allfather after the previous one was gibbed last season and has the Deputy PM of New Zealand killed because he asks when exactly the Messiah will be revealed. The hunt for Humperdoo isn't going to well, as shown by a scene of Grail goons pursuing one in a jeep and killing him when he doesn't dance like the true Messiah. He also gets a doctor to staple some of Cass' foreskin to his head as a replacement, which looks hideous and off-putting and while amusing for a second or two is absolutely not something Starr would stand for, and if the next episode doesn't include him ripping it off and killing that doctor my immersion will be completely ruined. Or, you know, I'll be mildly annoyed. Back in Jesse's share of the episode he reaches an airport and is told by a pilot that the penis rock is "The Lost Apostle" in Australia, and after realising he left his lighter in the chicken truck makes said pilot drive him to where it came from: Jesus De Sade Entertainment. He grabs the lighter without any trouble, but the pilot convinces him that they need to storm the place when they see a frightened child being ushered away from a window by a white haired man in a cape. The episode ends with a time skip to Jesse, now with bloody knuckles and new boots, alone on a plane with the pilot taking him to Australia, as it's revealed that God has a model of the same plane.
I saw a brief clip from episode 3 that made me suspect Jesus De Sade would make an appearance, and here he is. It is a bit odd that he's just crammed in like this when in the comics Jesse, Tulip and Cass went to one of his parties looking for information, but I'm hoping they make the most of it next episode. I'm also hoping for Bob Glover, Sexual Investigator, especially since they missed the opportunity to have him in an earlier season. Overall the episode was a good continuation and it works well as a double bill, but I'm having slight doubts. The show works best in more varied, interesting locales and so far the pristine Grail lab and their all-white tactical gear seem sterile and uninteresting. I've already raised concerns about Starr's new ear and Tulip's car plan, but they're nothing too bad at all, and with the promise of Jesse beating up pedophiles next episode, I've quickly put it behind me. Cass needs to either shit or get off the pot, escape-wise though, lest it bog the season down like his old man vampire son did back in season 2.
Episode 3: Deviant

Okay, so they're leaning into the notion that Cass thinks he deserves his torture this episode. Frankie is now taking him on regular trips to Bensonhurst, NY to have his foreskin repeatedly sawn off by a machine and the results being added to skin cream, in a dark reprise of Cass' theory from season 2. The still unnamed Angel hanging in Cass' cell is a lot more talkative this episode and gets the vampire to reveal his backstory: 1916, the Easter Uprising in Ireland. A human Proinsias Cassidy sets off with his mate Billy to repel British forces. It doesn't end well; Billy has his leg blown off and is bayonetted by English soldiers while Cass looks on too scared to help him. Later that night he hides from two oncoming soldiers and is jumped by a female swamp vampire who bites him. Back in the present, Cassidy laments his failure and says that he felt it best that his family think he died rather than the truth. Tulip's plan to bust him out has hit a roadblock in the form of a psychological evaluation, which proceeds even when she mullers a bunch of Grail staff. Turns out she's got a personality disorder, a gun fetish, psychopathic traits and abandonment issues, but "There's no cure for that" so she can go about her business just before Featherstone storms in having figured it out. Meanwhile Herr Starr has curled the excess foreskin on his new "ear" in towards his head, and asks his cold and calculating replacement for Hoover, "Hoover 2" if he's still beautiful, to which Hoover 2 gives a flat "No". Starr approves. In Texas, Eugene and the Saint of Killers grab lunch in a diner, with the latter being surprisingly talkative and at least considering the former's insistence that Jesse merely apologise to them both rather than being killed. Eugene gets solicited by a man in the bathroom via a glory hole only to be almost immediately arrested by a Sex Detective…who doesn't give his name and doesn't belt out Bob Glover's iconic "IT'S BUGGERIN' TIME" in what I can only describe as a devastating missed opportunity. Finally we have Jesse's adventures in De Sade entertainment. It's basically just a kinky costume party, starting with a woman blowing smoke in Jesse's face that makes him woozy, and De Sade outlining the terms of the little boy's presence in the estate, resulting in Jesse clocking him in the nose. Jesse finds the boy and it turns out it's the one who mugged him, and the boots Jesse's wearing on the plane are his own ones, having been returned to him. The boy doesn't want to leave because he's "Making thirty five dollars an hour in a third world country", but Jesse insists, resulting in a drawn-out fight that's part explicit Oldboy reference, part Mother Russia Bleeds and part weird camera angle that, had the show not have demonstrated such quality up to this point would feel like a mistake. It's fine, it's back to being set to dissonant music and the Oldboy reference is a nice touch but all the fight scenes so far this season have been nothing special. Particularly when compared to the "Uptown Girl" and "My Sweet Lord" fights. The fight ends with some idiot blundering in with a gun that Jesse turns on everyone, and a stray bullet tags the kid. So that's two for two on accidental murders for Jesse in the span of as many episodes. Again, good work, preacher man. He stomps De Sade's head into paste in a rage, and as Jesse and the pilot leave (the pilot sans trousers, having taken a less aggressive stance upon entering the building) God is seen in the window. In the airport Jesse runs into Hitler, who doubts the former's ability to even reach God, which Jesse counters by commanding Hitler, who is the ruler of Hell at this point, to get on his knees and strangle himself. The episode ends with a news report about a manhunt for Preacher Jesse Custer as the plane goes down having hit a patch of "Something".
So far this season has been rather busy but hasn't got a lot done. I'm glad Cassidy's getting justification for him staying in the hands of his torturer, but he still needs to do something eventually. The shot of him clutching the Angel feather near the end of the episode might be hinting at an imminent escape for real this time. Everything in De Sade Entertainment didn't really go anywhere and the fight was just okay, Tulip's psych eval was just another link in the chain, and they set up Bob Glover and bunted, to my frustration. I'm still enjoying this season but so far it's not had as good a start as previous ones.
By James Lambert
@jameslambert18