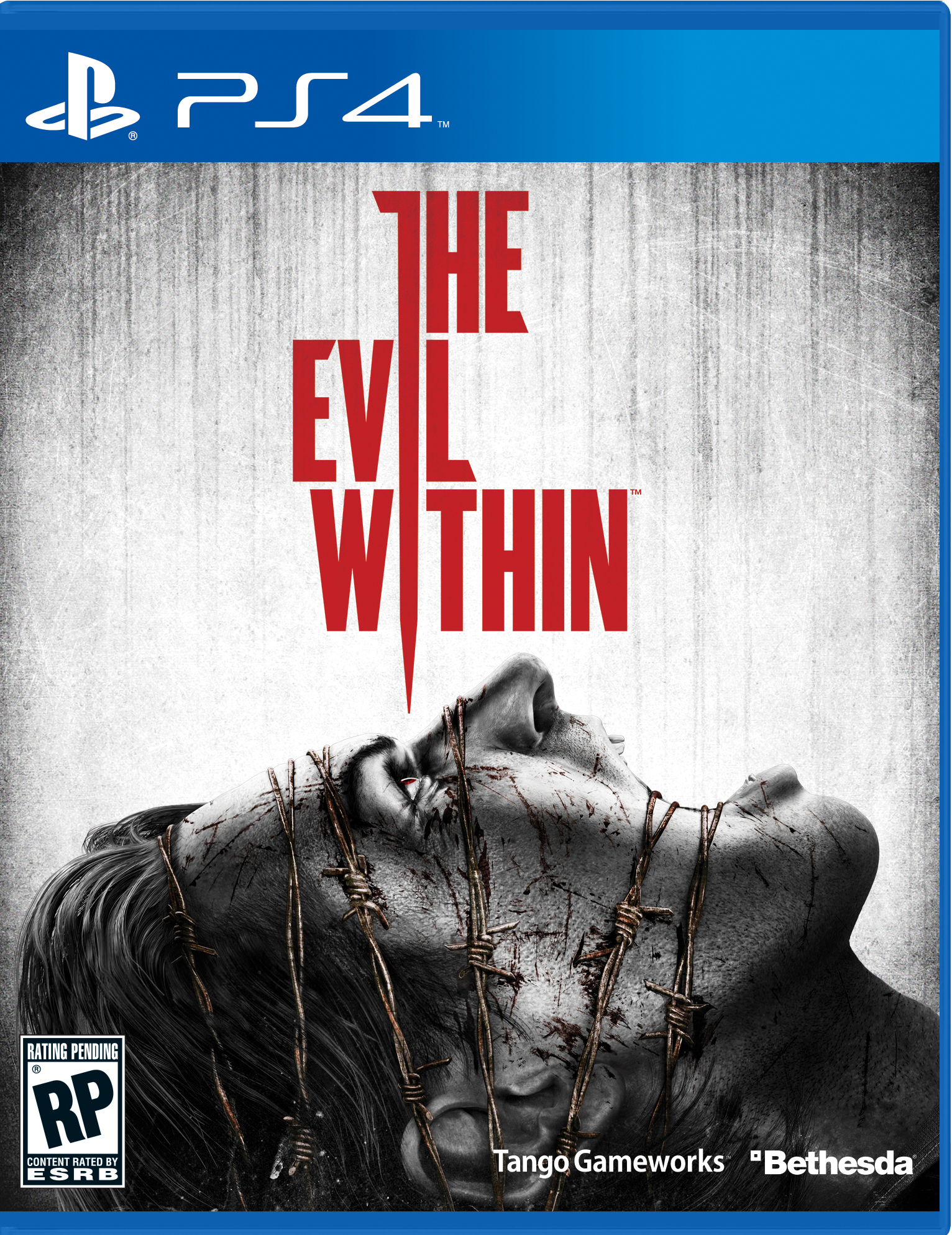 I've had a pretty rough history with "The Evil Within". It was first announced as a "Return to Survival Horror", a boast that everyone seemed to take seriously rather than scoff at, ignoring that horror games and indeed survival horror haven't gone anywhere. I've been pissing and moaning about that since it was first announced until about a week before the game's release when I started to look forward to the game as an action-horror in the "Resident Evil 4″ mold. It's made by Shinji Mikami, you see, and with that pedigree come real expectations. Are those expectations met? Is it actual survival horror, or is it a solid action-horror? Is it even any good?
The story is a mess. You are Sebastian Castellanos, a crap detective in a waistcoat who looks like Jaime Lannister investigating a violent situation at Beacon Mental Hospital with his partner, a man in glasses and stylin' leather gloves and a woman who responds to violent situations in high heels because I can only assume she never has to run around when she's on a case. Upon reaching the asylum Sebastian is captured, escapes from a man with a chainsaw because there's always one in these situations, then there's a scene where an ambulance does its best "Alone in the Dark" impression and Seb finds himself stranded in some spooky woods. The plot revolves around a man named Ruvik, whose assorted memories make up the levels as you trawl through his mind and encounter his past in the form of flashbacks and enemies that reflect his psyche like a crap version of "Silent Hill". The biggest problem this raises is that all the locations in the game are jumbled up and crammed together with little to no continuity- it just feels like a load of set-pieces crammed together. "You're in the village from RE4. Now you're in a hospital, ooh, now you're in the MINE from RE4, oh hey, the mansion from RE1! NO TIME, NOW YOU'RE IN A FLOODED CITY WATCH OUT FOR THAT FISH MAN THING!" the game takes no time to establish its locations, nor does it offer any juxtaposition in its scenes- you're just thrown into areas full of enemies that you've seen in another, better game. Certain locations are well designed, particularly the mental ward you return to periodically to save the game and level up, but most of them are either generic or ripped from Resident Evil 4. The characters are all bland and undeveloped apart from Ruvik, who's just dull, plot points are introduced and never touched upon again, and the whole thing ends on a vague conclusion that doesn't explain the events leading up to it or put it into any greater context. The ideas of being trapped inside the mind of a scarred individual and negotiating a landscape that's prone to changing on a whim are interesting, but they're poorly done here, and end up being annoying.
Gameplay is a mixed bag. On the one hand there is fun to be had- it controls like a mix of RE4 and "The Last of Us", and when the game isn't being incredibly unfair and borderline broken it can be quite intense. Those moments are in the minority though. Before going any further I have to say- this is not a survival horror game. It's an action-horror- over the shoulder aiming, locational damage, a big, dumb melee attack, sections in which you have to hold of hordes of enemies or kill a certain number to advance, quick time events and huge action set-pieces. Which leads me to inquire: if this is "Bringing back Survival Horror" then what exactly is it bringing back? If this is survival horror than so are all three Dead Space games, RE 4, 5 and 6 and indeed The Last of Us. I genuinely don't understand why people think this is A) Survival Horror and B) Some real return to the genre. I've come to the conclusion that "Survival Horror" refers to the old-school Resident Evil and Silent Hill games, and things like "Dino Crisis", but not games like this. But I digress- the combat here is often infuriating. Bullets are scarce- enemies can drop whole boxes of ammo with four loose bullets next to them and yet the pick-up gives you two rounds. You can often get into an unavoidable fight and the game simply doesn't provide enough ammo for you to beat it. Now you may be thinking "But James, you scrub, surely you should conserve your ammo more and rise to the challenge?" and to you I say: conserving supplies is utterly negated when bullets simply don't work, and your melee attack couldn't knock over a baby with an inner-ear infection. The former is split into two camps: enemies absorbing ridiculous amounts of damage for no reason- whole clips, explosives, the lot- or the game simply refusing to acknowledge you've hit an enemy, even if your cursor is right over their body or head. So no, it isn't about conserving ammo, it's about hoping that the game will hold itself together, which is made trickier by its refusal to adhere to any kind of consistent internal logic. Sometimes enemies are made to be far too powerful- enemies may grab you or hit you despite the fact you were well out of their range, and sometimes instead of giving you the chance to escape with a QTE the game instead makes you tank the damage and tells you to deal with it. There's an enemy late in the game with a one-hit kill attack that tracks you, is very quick and doesn't slow down or stop for several seconds. The artificial difficulty is compounded by inconsistent, often poor checkpoints- a lot of situations will involve a simple but time-consuming part followed by a section that kills you quickly after giving you a very short amount of time to escape, then sends you right back to the beginning of that first part. Also Sebastian's melee attack looks ridiculous- he does this huge lunging punch like he's a drunk anime character trying to start a fight in a pub. Most enemies either completely ignore it, or take minimal damage.
Are there actually any good things about the game? Well as I said when it's not being unfair or annoying the gameplay is solid and enjoyable enough. A genuine stand-out is the first fight with "The Keeper"- the safe-headed monster featured heavily in the marketing material for the game- a tense fight in which he continues to regenerate as you attempt to escape from an area filling with posion gas. Unfortunately the game keeps bringing him back to the extent that his effect is greatly diminished, but he's cool for that first big fight. The enemy design is interesting, particularly the horde enemies filled with spikes or wrapped in barb wire, and some of the bosses. Unfortunately every time your head breaks the surface you realise that the gameplay was done better in RE4 and TLOU, and this is nothing special.
So then, "The Evil Within" has a whole lot of problems. The story is a jumbled mess of locations with little continuity, the characters are uniformly uninteresting, and when the gameplay isn't being unfairly difficult and borderline broken it's been done better elsewhere. If you absolutely must have a new action-horror game in the vein of "Dead Space 2″ and "Resident Evil 4″ then there is fun to be had here and it does have some cool ideas, but everyone else is better off leaving this one be.
Oh, and if you're playing it on a console you're stuck with thick black bars at the top and bottom of the screen, causing the entire game to be viewed in letterbox. Make of that what you will; sometimes I thought it was alright, most of the time I thought it was a crap idea that was just pointless.
By James Lambert
@jameslambert18